I'm just your friendly neighborhood Trivia-Man
I'm the owner, writer, and host of Eye Heart Trivia.
I'm also a vocal proponent of the Oxford comma.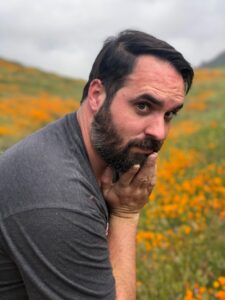 I started playing trivia several years ago on Sundays in Downtown Long Beach. I actually met some of my best friends for the first time playing on our team the Catholic School Dropouts. Occasionally, we would come in first, but most times we didn't. Hell, most times we didn't even place in the top 5. We always had fun though, and that was the important part.
From there, I decided to get more involved in the trivia scene. I started working for King Trivia and, for a few years at least, ran practically all their Orange County games. I'd travel from Dana Point to Huntington to Fullerton to Seal Beach, and I had a blast doing it. I also filled in at a number of other locations and wrote and hosted a few of their themed trivia nights. But, like all good things, well, most good things anyway, it had to stop. Life took me in a different direction.
After taking a few years off I decided to jump back in — this time with Kiss Kiss Bangs Bangs. I hosted at a number of locations around OC and wrote a couple themed games. I also started training their new hosts. I was back, and I fell in love all over again. Then COVID hit and everything changed.
As the pandemic progressed, I started writing and hosting online trivia games for friends and family as a way for all of us to stay sane. Once things cooled down and venues started opening up again, I thought about how best to pursue my love of trivia moving forward. I decided to start my own company. This would allow me the freedom to listen to my players and craft the types of games they wanted to play.
Let me tell you, it's been amazing so far. I love the community we've built and I am grateful for the business partners that have helped me realize this dream. I don't have any intention of becoming one of those big trivia companies (you know the ones I'm talking about). I'll always be your friendly neighborhood Trivia-Man.
On a more personal note, I grew up and went to school locally here in OC and Long Beach. I'm a Southern California boy through and through. I produced and hosted a podcast (which I may someday revive) that explored the many media influences of my childhood. It was part retrospective, part social commentary, and I enjoyed every minute of it. I've also guest hosted on a number of other podcasts in various capacities.
I hope to see you at my next game!